Fall 2018 PES-ICC Meeting
 Orlando, Florida, 28-31 October 2018 at the Walt Disney World Swan
(…or if you must justify the meeting to management: The Swan Hotel located in Kissimmee, Florida)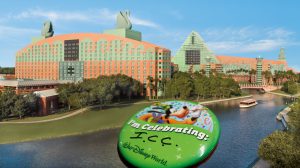 An Invitation
I think many of us like to think of the Insulated Conductors Committee as the most magical committee in the IEEE, so it makes sense that we are bringing the ICC to The Most Magical Place on Earth . . . Walt Disney World.  We will be holding our Fall 2018 meeting at the Walt Disney World Swan Hotel, which is one of the EPCOT resort hotels.
For our meeting, the Walt Disney World Swan offers a world class conference center with modern and spacious meeting rooms suitable to accommodate the growing membership and attendees for the ICC meeting.
While the ICC is focused on technical activities, much of ICC is about connecting with people and possibly being accompanied by family members.  We will be hosting an exciting ICC reception outside along the lagoon adjacent to the Swan Hotel (weather permitting).  In addition to the grand meeting spaces, there are plentiful alternatives for organizing dinner meetings and discussions in and around the Swan Hotel and the nearby Disney Boardwalk area.  The Disney World Resort offers four main theme parks (Magic Kingdom, EPCOT, Disney Hollywood Studios and Animal Kingdom) as well as extensive shopping and activities in Disney Springs (formerly "Downtown Disney").  In addition, the Swan Hotel is nearby many other Orlando attractions.
If your schedule allows, Disney World offers some exciting Halloween-themed activities that you may be able to explore after the ICC meeting adjourns on Wednesday.  Mickey's Not-So-Scary Halloween Party at Magic Kingdom is one such activity you might consider exploring.
Meeting Agenda
We plan to post an initial agenda no later than 8 weeks before the meeting.
In addition to the PDF agenda, the ICC is using a smartphone/tablet schedule based on the guidebook.com platform.  Guidebook can be downloaded from the "app store" on most smartphones, or by scanning the QR code below.  Then you can easily add our meeting by searching on "ICC" within the app.
If you find any problems or have any questions about our use of Guidebook, please contact Rachel Mosier
Presentations and Educational Program
The Subcommittees will sponsor many Technical Presentations on key topics in their fields of interest.
Attention Presenters: Guidelines for Presentation Material Published in PES – ICC Minutes
The theme of the Fall 2018 Educational Program is to be announced.  Abstracts of the presentations will be found here.
0.4 IEEE CEUs will be offered for this session.  You must register in order to receive CEUs.
Registration
Online Registration will be available before the meeting.  
A spreadsheet will be posted to calculate registration costs.
We encourage you to register on-line even if you do not plan to pay with a credit card. The option to register and mail a check or to pay on-site with cash or check is also available with on-line registration.
Online meeting registration can be used by everyone, both members and guests, and will speed registration for everyone.  Pre-registration will save you time and hassle when you arrive, as your nametag will be ready and waiting for you.
Effective with the Fall 2018 Meeting, advance payment will be required to get the advance registration rate.
Please note our policy on refunds.
For those that cannot register online for any reason, an offline registration form will be posted.
Mini-Expo
This meeting will feature a Mini-Expo for vendors to make table top displays of equipment and services related to the scope of the ICC. You can sign up for a table top display using the meeting Registration form. A list of exhibitors can be found here.  Guidelines on displays can be found here.
New Member Orientation
First Meeting? Want to know more about the ICC? Please attend the Orientation Session on Sunday afternoon. There are many different sessions at ICC meetings and they cover a multitude of subjects related to insulated conductors. Information presented at Orientation will help you find the sessions that are of most interest to you.
Hotel Information
The meeting will be held at the Walt Disney Swan Hotel.  More details will be posted soon.
Walt Disney World Swan
2101 Epcot Resorts Blvd
Kissimmee, FL 34747
(+1)-407-934-3000
Hospitality Suites
If your company plans to have a hospitality suite in conjunction with this meeting, be sure to see the Guidelines page.
Spouse Activities
Spouse/Guest Breakfast – As always, if your spouse or guest would like to be included in the daily breakfasts from 8:00 – 9:30 AM, please be sure to register them by selecting "Companion Registration" during the registration process.  (The cost is $75 and includes breakfast on Monday, Tuesday, and Wednesday.)
A meeting room will be available for spouse/guest activities and group organization within the hotel each day.
Additional Activities may be planned that will require pre-registration.  Information will be posted closer to meeting time.
Transportation
Nearest Airport:
Orlando International Airport (MCO)
MCO Airport Website: https://www.orlandoairports.net/
The Walt Disney World Swan is approximately 23 miles (37 km) from Orlando International Airport as about 40 minutes by car.
Other airports are available, though generally only offering accessibility by rental car:
Tampa International Airport (75 miles / 120km, 1hr 20 min drive)
Daytona Beach International Airport (75 miles / 120km, 1hr 20 min drive)
Miami International Airport (237 miles / 380km, 3hr 45 min drive)
Transportation:
Skip the Car! – Unless you plan to venture far from the ICC hotel, a rental car is not necessary on site.  The Walt Disney World Swan is serviced by the Walt Disney World transportation system which includes buses to the theme parks, Disney transportation center and Disney Springs (formerly called "Downtown Disney"), and also boat service to EPCOT, Disney Hollywood Studios and the Boardwalk.  You may find that renting a car is an unnecessary expense.
Taxi – ~$85
Mears Transportation – ~$37 / person (shared).  Luxury transportation is also available from Mears (855-463-2776).
Many of the major car rental companies are also available from Orlando International Airport:
Advantage, 800-777-5500
Alamo, 800-327-9633
Avis, 800-831-2847
Budget, 800-527-0700
Dollar, 800-800-4000
Enterprise, 800-325-8007
E-Z Rent-A-Car, 800-277-5171
Hertz, 800-654-3131
National, 800-227-7368
Payless, 407-856-5539
Thrifty, 800-367-2277
Tourist Information
The Walt Disney World Swan is in the midst of four world-class theme parks.  Free Disney bus transportation is available among the various Disney World theme parks and to Disney Springs (formerly Downtown Disney), and there is boat service from the dock between the Swan Hotels and Dolphin Hotels with access to the Promenade Pier (Boardwalk), EPCOT and Disney Hollywood Studios.  EPCOT, the Promenade Pier and Disney Hollywood Studios are all accessible by walking as well.
Below is a summary of activities that may be of interest:
There are also several other major attractions in the Orlando area:
Universal Orlando Resort – Featuring two theme parks – Universal Studios Florida and Universal's Islands of Adventure
Sea World – See marine life up close while also enjoying theme park rides and shows
International Drive
Help Wanted
As a service to our attendees, we provide space on the meeting announcement board for job openings via  "help wanted" postings.  If your company has an opening and would like to advertise to the most talented cable engineers in the world, please feel free to post an ad in the "help wanted" section of our bulletin board at Registration.
PHOTOGRAPHY POLICY AT ALL IEEE MEETINGS & CONFERENCES
Attendance at, or participation in, any IEEE conference constitutes consent to the use and distribution by IEEE of the attendee's image or voice for informational, publicity, promotional and/or reporting purposes in print or electronic communications media.
Video recording by participants and other attendees during any portion of the conference is not allowed without special prior written permission of IEEE.
Photographs of copyrighted PowerPoint or other slides are for personal use only and are not to be reproduced or distributed. Do not photograph any such images that are labelled as confidential and/or proprietary.